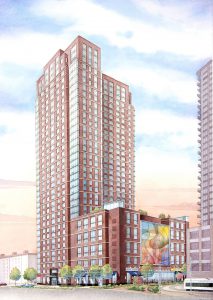 Commercial Mortgage Unlimited

 

specializes in funding full doc apartment buildings in the USA

.  As a Correspondent lender we have access to mortgage capital and has financing available with loan amounts ranging from 250,000 to 300,000,000 million.
The first loan program we are going to present is a popular full doc loan small loan program. This program is best for financing loans from $750,000 to $5,000,000 nationally.
We provide expert solutions to satisfy small loan needs. Our goal is to move our clients through the process expeditiously, responding quickly with credit decisions, critical updates and any program guideline changes.
Fannie Mae Multifamily Loans
Fannie Mae is one of the nation's leading secondary market sources of capital for apartment building financing. Fannie Mae provides mortgage capital for conventional, affordable housing, cooperatives, senior housing, student housing, manufactured housing communities and mobile home parks nationwide. Fannie Mae's apartment loan program offers many distinct advantages over traditional bank programs, including: long-term fixed rates up to 30 years, high LTV ratios up to 80%, and nonrecourse financing (no personal guarantee to the principals). Fannie Mae's offerings include:
Fannie Mae Multifamily Small Loans
Description
Simplified loan approval process for long term fixed rate financing for apartments, manufactured housing, mobile home parks, and cooperative apartments.
Loan Amount
$750,000 – $3,000,000 nationwide – up to $5,000,000 in major markets
Loan Terms
Fixed rates for 5, 7, 10, 12, 15, 20 and 30 years
Amortization
Up to 30 years, based on the age and condition of the property
Prepayment Penalty
Yield maintenance and step-down options available
Recourse
Non-recourse lending is available
Debt Service Coverage
1.25x minimum
Loan to Value
Up to 75% maximum LTV for refinances and 80% for purchases
Subordinate Financing
Supplemental mortgages are available after the first 12 months of the loan term or loan assumption
Occupancy
Typically expect to see 90% occupancy for the previous 3 months
Assumability
Non-recourse loans are assumable with the Lender's consent and a 1% fee
Taxes and Insurance Escrows
May be waived on lower LTV loans
Net Worth and Liquidity
Net worth and liquidity requirements must be met
Replacement Reserve Escrows
To be determined based upon appraisal and engineering reports
Rate Lock
Rate lock occurs after commitment is issued; an early rate lock option is also available
Fees
Due Diligence Fee: $4,500 – $8,500 non-refundable fee for 3rd party reports and processing
Timing
45-60 days from complete application to closing
Fannie Mae Multifamily Large Loans
Description
Long term, fixed rate financing for the purchase or refinance of apartment buildings, mobile home parks and cooperative properties
Loan Amount
$3,000,000 and up
Loan Terms
Fixed rates for 5, 7, 10, 12, 15, 20 and 30 years
Amortization
Up to 30 years, based on property condition; Interest-only financing is available
Loan to Value Maximum
Up to 80%
Coverage Minimum
Typically 1.25x, 1.20x in certain markets
Borrower
Domestic single asset borrowing entity is required
Interest Rate
Subject to "tiered" LTV ratio (55%, 65%, and 80% tiers)
Prepayment Terms
Yield maintenance and step-down prepayment options available
Third Party Reports
MAI Appraisal, Physical Needs Assessment, and Environmental Phase I Assessment are required, plus Seismic Report may be required for properties in Seismic Zones 3 and 4
Escrows
Real estate taxes, insurance, and replacement reserves subject to underwriting guidelines
Application Fee
$10,000; covers 3rd party reports and processing/underwriting costs
Legal Fees
$8,000 to $12,000 varying with characteristics of the deal
Timing
45-60 days from application to closing; dependent on 3rd party report timing and borrower's submission of due diligence
Rate Lock
Typically, lock occurs after commitment is issued; Early Rate Lock option is available, allowing rate lock within 3-4 weeks of application
Assumability
Loan is assumable, subject to lender approval.
**We are now an approved Fannie Mae mezzanine lender, able to write mezzanine loans behind DUS first mortgage loans that we originate. One of only 4 such approved firms. We can assist borrowers who need additional leverage up to 85% LTV and down to a combined DSCR of 110%, per Fannie Mae program.
Freddie Mac Multifamily Small Loan Program
Freddie Mac is another nationwide source of mortgage capital for apartment building financing. Up until recently, Freddie Mac focused exclusively on large balance loans. Now, Freddie Mac has unveiled a small balance apartment loan program to compete with Fannie Mae. These loans have very competitive rates, flexible prepayment options, and allow for cash out. These loans are called hybrid ARMs as they have fixed rates for the initial 5, 7, or 10 years followed by an adjustable-rate period and 30 year amortizations.  Available options include a five-year fixed followed by a 15 year adjustable, seven year fixed followed by a 13 year adjustable, and a 10 year fixed followed by a 10 year adjustable. All loans come with step down prepayment penalties (such as 5%, 4%, 3%, 2%, 1%) instead of yield maintenance.
Loan Amount
$1 million to $5 million
Loan Purpose
Purchase or refinance, including cash out refinances
Amortization
Up to 30 years
Property Types
Apartment buildings of 5+ units
Debt Service Coverage
1.20x in top markets, 1.25x nationwide
Maximum Loan to Value
80%
Recourse
Non-Recourse
Credit Score
Minimum of 650
Interest Only
Interest only loans are available
Occupancy
Minimum occupancy of 90% for 90 days
Taxes/Insurance
Escrows for taxes and insurance may be waived
Replacement Reserves
Not usually required
Rate Lock Deposit
1% at rate lock, refundable at closing
Adjustments
Annual and lifetime caps on all adjustments
Assumable
Yes
Whether you need funding for an apartment building with a full doc loan , No Doc , or Limited Doc program I can fit you into the best program. All loans in general are based on the borrowers financial strength and the current or projected cash flow.
If you want to purchase an apartment building with a Bridge Loan here is a great product. Please log onto my Bridge Loan Page for more information about Bridge loans.
Bridge Product

·         Multifamily, Retail, Office, Industrial, and Self-Storage (Value-Add opportunities)
Flexible loan terms & prepay (1-3 years with extension options)
Loan amount is determined by using in place cash flow as low as a 6.75% Debt Yield
Up to 80% Loan to Purchase plus CapEx costs or 75% of stabilized value
1% Lender Fee, 1% Exit Fee; Exit Fee is waived if we (HMG) provide the takeout loan
Pricing from 475bps to 525bps plus 30 day LIBOR (we are currently aggressive for this)
·         Minimum Loan Amount:  $5MM Multifamily; $7.5MM Commercial (up to $50MM)
……………………………………………………………………………………………………………………………………………………………..
Fannie Mae's Multifamily Mortgage Business loan program. Multifamily 5+ units. Max 80ltv Rate in the 4%'s
Low cost of execution  Competitive rates  Delegated model provides lenders and borrowers speed of execution  Team with experience and scale to support this unique market  Single asset security allows the most flexibility in the market  Extensive experience serving the small loan market  Streamlined third-party reports
Eligibility
Conventional properties; Multifamily Affordable Housing Properties; Cooperative Properties (market rate); and Manufactured Housing Communities.  Existing, stabilized multifamily properties  Properties with 5 or more units  Loans for acquisition or refinance
Fannie Mae's Multifamily Mortgage Business offers a streamlined loan process for fixed- and variable-rate mortgage loans up to $3 million nationwide and up to $5 million in certain eligible markets.
We offer fixed or floating rate financing for acquisition, refinancing and moderate rehabilitation. Terms range from 5 years to 30 years and may be fully amortizing, or contain partial or full interest-only options. Through these programs we offer first mortgage financing and subsequent supplemental (subordinate) financing and/or substitution of single assets
Loan Amount Up to $3 million nationwide Up to $5 million in certain eligible markets
Term 5 – 30 years.
Amortization Up to 30 years.
Interest Rate 4-5% Fixed- and variable-options available.
Maximum LTV 80%.
Minimum DSCR 1.25x.
Supplemental Financing Supplemental Loans are available.
Prepayment Availability Flexible prepayment options available, including yield maintenance and declining prepayment premium.
Rate Lock 30- to 180-day commitments. Borrowers may lock a rate with the Streamlined Rate Lock or Early Rate Lock options.
Accrual 30/360 and Actual/360.
Recourse Non-recourse execution is available with standard carve-outs for "bad acts" such as fraud and bankruptcy. Escrows Replacement reserves, tax, and insurance escrows are typically required for higher leverage transactions.
Third-Party Reports Streamlined inspection and Environmental Screening using the ASTM E-1528-14 protocol.
Assumption Non-recourse loans are typically assumable, subject to review and approval of the new borrower's financial capacity and experience
………………………………………………………………………………………………………………………..
The last Fannie Mae loan I funded was a refinance for a 112 unit apartment building.
If you are interested in this type of funding most lenders would start with the following questions?
Is this his first multifamily property, does he have any prior ownership or management experience? If not he will definitely need local third party property management
Net Worth needs to be equal to loan amount and liquidity (post-closing) needs to cover 9 months of the annual debt service.
Please email me your loan request and I will call you and in a five minute chat I can determine which loan program is best suited for your loan request.  We offer other limited doc and no doc long term loan programs in the 8%'s for clients who cannot qualify for full doc loan programs.
My name is Mark Fulop and I am the processor at Commercial Mortgage Unlimited. We offer the largest variety of full doc and no doc loan programs in the US.
Pls email me at mark@commercialmortgageunlimited.com
Call me at 201-925-3470 9-5 Eastern Standard Time.
www.commercialmortgageunlimited.com