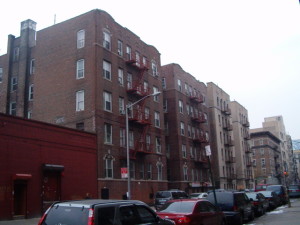 Interested in attaining a FHA Multifamily Loan?
FHA multifamily loans are used to purchase properties with 5+ units and are subject to FHA loan limits and qualifications
Breakdown of FHA multifamily loans, including their costs, terms, qualifications.
FHA multifamily loans are primarily used to acquire or refinance existing multifamily properties. These loans are referred to as 207/ 233 F Loans) and are not for properties that need repairs.
There are 3 types of  FHA Multifamily Loan Options
| | |
| --- | --- |
| FHA Multifamily Acquisition Loan | Most borrowers, since it's used for the purchase or refinancing of existing multifamily buildings. |
| FHA Multifamily Construction / Rehab Loan for Co-ops | Borrowers looking to build or renovate cooperative housing units like senior care facilities or low/moderate income housing. |
| FHA Multifamily Construction / Rehab Loan for Condos | Borrowers looking to build or renovate condominiums. |
Most clients prefer FHA multifamily acquisition loans which are the most popular type of FHA multifamily loans
FHA Multifamily Acquisition Loan
Loan Limit
Non-elevator: $57,133 per unit
Elevator: $66,657 per unit
Rates
3.2 – 4.9%
Down Payment
Minimum of 15%
Property Qualifications
5+ units with complete kitchen and baths
Repairs
No major repairs. Minor repairs must be completed within 12 months and property must have been rehabbed or constructed 3+ years before applying for an FHA loan
The terms are usually the same with each lender and the costs are dependent on the loan amount and lender application fees.
FHA multifamily rates, terms and loan limits are generally:
Interest rates: 3.2 – 4.9% (fixed)
Term: 35 years
Loan limits: $57,133 per unit (non-elevator buildings), $66,657 per unit (elevator buildings)
Time to funding: 90 -120 days
Application cost: Up to $25,000 (includes an appraisal, environmental study and 3rd party due diligence reports)
FHA application fee: Usually 0.30% of loan amount plus per unit inspection fees of $30 per unit or 1% of the cost of repairs
Good faith deposit: 1% of the loan amount
Variable costs: Lender's legal, title, and standard borrower closing costs totaling 2% – 5%
Overall costs vary based on the type of property you're buying and the number of units. Usually, properties with more units have higher costs, but in return, usually, generate higher profits.
FHA Multifamily Loan Requirements
FHA multifamily loan qualifications are generally based on two criteria: the borrower and the property.
Typical FHA multifamily loan qualifications you should expect include:
Borrower experience: Prefer 2+ multifamily projects but is up to the lender to approve and verify
Credit score: No specific score or net worth, but instead a strong financial profile including FICO score
Down payment: Minimum of 15%
Cash reserves: 2% – 6% of outstanding principal balance
Minimum number of units: 5+ units with furnished kitchens and bathrooms
Most of the time properties that qualify are typically apartment buildings. Mixed use buildings with residential and commercial spaces, as long as they are mostly residential. The building must not need any major repairs and all minor repairs that the FHA inspector finds must be repaired within 1 year. Money to fund repairs will be held in escrow until the repairs are made. Each property must also be ADA compliant and meet all building codes and have smoke detectors. For the most part FHA wants to insure loans on multifamily properties that are in good condition with borrowers who will take care of the properties. FHA wants to ensure that borrowers are creditworthy and experienced in managing multifamily properties.
If you are interested in a Multifamily FHA Loan or interested in learning more about other FHA Programs such as FHA Multifamily Construction / Rehab Loan for Co-ops or FHA Multifamily Construction & Rehab Loan for Condominiums
Please email me and explain your loan request and I will advise if you qualify for this type of FHA loan program or another one.
mark@commercialmortgageunlimited.com
Thanks
Mark Fulop
Commercial Mortgage Unlimited LLC offers the biggest variety of custom tailored loan programs